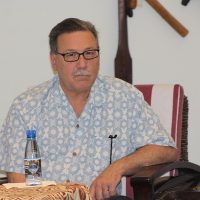 American Samoa is receiving $1. 6 million in technical assistance grants for Fiscal Year 2018 from the US Department of Interior, Office of Insular Affairs.
The breakdown of the funding is as follows:
Department of Treasury gets $200,200* to finalize improvements and upgrade to the financial management system with specific support towards improvement of business procedures such as general ledger, accounts payable, procurement and staff development. In 2017, the American Samoa Government completed a multi-year effort to upgrade its financial management system.
Department of Treasury is also receiving – $296,000 to develop a disaster recovery plan for the financial management system, especially in light of recent natural disasters and their susceptibility to such.
Department of Human Resources – $60,000 to review and update the American Samoa Job Classification and Pay Plan with the goal of refocusing workforce delivery of services to citizens.
Department of Port Administration – $292,000 to update the Port Management Information System, which includes hardware upgrade, equipment, software for automation, training, and maintenance. The end goal is to have a paperless system with overall improvement in financial and operational efficiencies
Department of Commerce – $35,000 to install visitor site markers, information panels, directional signs and other visual features to highlight historic places and other places of significant cultural value to enhance the visitor experience while on Tutuila.
Department of Commerce – $55,000 to support development of Aunu'u as a premier eco-tourism destination. Funds will be used to repair the Aunu'u wharf, rehabilitate trails, construct a zip-line, and install interpretive panels.
American Samoa Power Authority – $160,000 to incorporate workflow automation and document imaging solutions for document capture, storage, and retrieval. The goal is to provide improved accounting and allow for better audit trail management.
Centers for Disease Control & Prevention – $200,000* towards the elimination of Lymphatic Filariasis, aka "Elephantiasis", in American Samoa. Once identified as having one of the highest infection levels in the Pacific, American Samoa has recommitted with the CDC to revitalize efforts to eliminate the disease by 2024. It is expected that two rounds of mass drug administration with triple drug therapy will be needed to eliminate the disease altogether in the territory.
Lyndon B. Johnson Tropical Medical Center for Pharmaceutical and Financial System Training – $60,000 to conduct training for new staff members working towards certification as U.S. pharmacy technician assistants. An additional amount of $234,080 will be used to explore best-practice metrics in financial accountability, financial management, and related IT systems. Training support will be included for those operating the hospital finance and information systems.
Lyndon B. Johnson Tropical Medical Center- $55,800 for the American Samoa Cancer Coalition for the community-based Patient Navigation Program to improve access and guidance in cancer treatment healthcare for affected American Samoa residents.
Funds are made available through the Department of the Interior's Office of Insular Affairs' Technical Assistance Program.
Applications are submitted from October through May 1st each year. Funds are awarded once OIA receives appropriations from the U.S. Congress until they are exhausted.