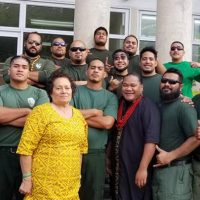 As it does every year, the National Park of American Samoa is sending a crew of forest firefighters to help put out fires in California.
17 firemen are leaving next Tuesday for Redding, California on a 30-day assignment.
Mino Fialua of the National Park Service says the actual spots where the crew from American Samoa will be working will be decided once they arrive at Redding.
About ten of the forest firefighters have been on previous fire fighting assignments in California while the rest are first timers.
All have been certified for the task after undergoing rigorous training by Fire Management Officer from the Hawaii Volcanoes National Park, Greg Funderburk in April.
The team leader is Anthony Wyberski.
Yesterday the group was hosted to a luncheon by Congresswoman Aumua Amata at Matai Restaurant.
Fialua recalls that in 2015 the Congresswoman traveled through the thick forests to visit them while they were doing duty putting out the many wildfires on the west coast.
Last year the crew from American Samoa was captured on a video clip which was widely circulated on social media singing a hymn as they returned home from a hard day's work.