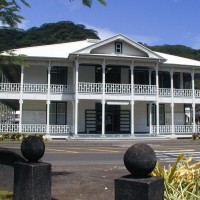 The premise of the government's new case against Sio Godinet Jr. is a different controlled buy that police conducted in April which led up to the raid of two homes in Pago Pago in May.
Court filings say that the April controlled buy was conducted in a vehicle that belonged to Godinet with him present.
Testimony by a police officer during the preliminary examination of Godinet the first time he was arrested, centered on this April exchange, however the charging information was based on the results of a raid of two homes that was conducted in May.
And this led to District Court Judge Fiti Sunia dismissing without prejudice the first case against Godinet.
However he was re-arrested last week and charged with four counts: two counts of unlawful possession of a controlled substance, methamphetamine and marijuana with intent to distribute; and two counts of unlawful possession of a controlled substance, methamphetamine and marijuana.
In the new filing, a confidential informant tells police that they overheard a conversation between the defendant and an unidentified man about how his operation was going well and he was becoming the "big time" in the drug game. This was in March.
The following month, the CI informed police about people visiting Godinet's home in Pago Pago and coming out with plastic baggies containing a white crystalline substance.
The court filings mention that the confidential informant saw Godent Jr. with his female co-defendant Meriko Lomu selling drugs from a vehicle.
The charging information reveal a connection between this drug selling operation and the Aute.
It quotes the CI saying that Lomu's customers and "runners" from Fagatogo were being used in the drug selling operation out of Godinet Jr.'s residence.
And the defendant had been forgiven by dealers at the Aute who were now allowing him to "reload" his drug supply through Lomu and another co-defendant Lyon Grey.
The informant states that the "re-supply" was done by either Lomu and Godinet Jr. in Godinet Jr.'s vehicle or by Grey in his silver Toyota Tundra or on his yellow motorbike.
Court documents go on to say that over the span of two months the CI had seen Lomu and Godinet Jr use four different vehicles to sell and deliver drugs.
Then on May 15 police raided two homes, one belonging to Godinet which was believed to be a "traphouse" for storing, packing and selling drugs' and the other belonging to Gray.
At Godinet's property according to the court documents, police saw two individuals identified as Lomu and Grey who appeared to be packing drugs, while another male identified as MF was sitting in the dark.
Police found drugs and paraphernalia associated with drugs in a small room during their search.
Godinet Jr was located inside another house.
All four were taken into custody and all three were confined and charged while MF was later released and hasn't been charged.
Godinet is at TCF on bail of $50,000.
His preliminary examination was continued from last Friday on a request from  the Public Defender's Office for more time to collect information for the case.
Godinet's next court date is July 18 for his preliminary examination.