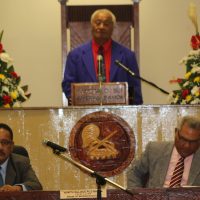 On this first day of the Fourth regular session of the 35th Legislature Senate President Gaoteote Palaie Tofau announced that he and the speaker have decided that the Fono will recess after Friday's session.
He said the recess will be for three weeks to allow lawmakers to attend to meetings.
Several lawmakers are delegates to the biennial conference of the Congregational Christian Church of American Samoa which begins on Sunday with an opening church service.
The All Samoan Invitational Golf Tournament is also happening in two weeks at the Iliili golf course with Senate President Gaoteote chairing the tournament hosting.
A resolution to authorize the planned recess is to be introduced later this week.
The Senate session this morning lasted less than 20 minutes.  Senate President Pro Tem Nuanuaolefeagaiga Saoluaga Nua as the chair of the Senate Rules Committee proposed a motion to suspend the dress code which is coat and tie for the rest of this week.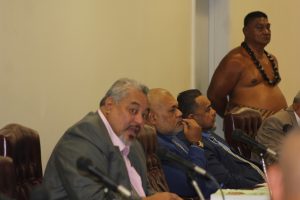 The motion was approved, but with a word of advice from the Senate leader not to make it a habit to change the dress code.
In the House of Representatives, the calendar was also empty but some lawmakers raised issues during announcements.
Manu'a Representative Vesi Fautanu asked for reports on federal assistance received for Tropical Cyclone Gita.  He said representatives need to know how FEMA funding is being used, so projects can be aligned with requests from districts.
Representative Faimealelei Anthony Allen asked for action on his bill calling for background checks of all those who run for public office.  He also asked that the committee responsible for the American Samoa Power Authority inquire as to when street lights on secondary roads can be repaired and turned on.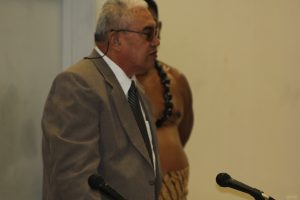 Representative Gafatasi Afalava pressed for the House to call in the Director of the Office of Public Information/ KVZK-TV to be questioned on the filming of church services.
He was still dissatisfied as to why the television station no longer films church services in the villages but requires congregations to come into the KVZK-TV studios to record sauniga lotu or Sunday church services.
In the last Fono session the Director of KVZK-TV Tuimavave Tauapai Laupola did not show up at a hearing that he was supposed to attend because he was tied up with post Gita activities.
Gafatasi said what he's seen is that the TV station films some events and not others.
He said he's seen other problems with the public television service and the House should not let this department do as it pleases.
The Leasina faipule said he's been urging the Chairman of the Committee responsible for KVZK-TV to bring in the director but nothing has happened so he's thinking of introducing a resolution to ensure that the director appears before the House for questioning on this matter.