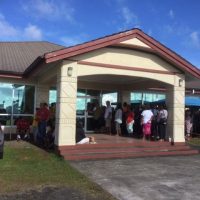 The U.S.Small Business Administration will close its Tafuna Disaster Loan Outreach Center at 4pm, Friday June 22.
Director Tanya Garfield of the Disaster Field Operations Center West said, "SBA opened the center to provide personalised assistance to businesses and residents who were affected by Tropical Storm Gita that occured February 7 – 12 2018.
"Until the Tafuna center closes, SBA customer service representatives will continue to be available to meet with businesses and residents to answer their questions, explain SBA's disaster loan program and close their approved loans".
The Disaster Loan Outreach Center at the Veterans Affairs Building is open Mondays to Fridays from 8am to 4pm and businesses and residents can meet with SBA representatives at the center.