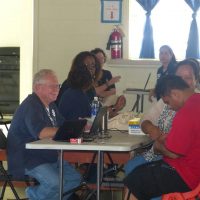 Next Thursday June 21st is the deadline for applications for the Disaster Unemployment Assistance Program for those whose employment and income were affected by Tropical Storm Gita.
Human Resources Deputy Director Training Makerita Enesi says not many applications have been received since the DUA program was announced last month.
DUA provides temporary unemployment benefits to individuals who lost their jobs or were self employed and unable to earn income now as a result of Gita.
This includes farmers as well as fishermen.
But they only qualify if they were unemployed for up to a week after February 7.
The DUA unemployment checks are up to $180 a week and the period of unemployment is from February 11 to September 1, 2018 provided that the person's unemployment continues to be a direct result of the disaster.
Those who qualify are US citizens, US nationals and qualified aliens.
Complete information on the eligibility requirements are available from the Department of Human Resources.