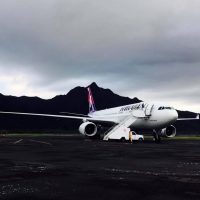 Hawaiian Air is switching back to night time fights on July 11, now that the Instrument Landing System at Pago Pago International Airport has been approved by the Federal Aviation Administration.
When the airline changed their schedule from nighttime to daytime flights last month, it announced that this schedule will remain until July 27th.
But now that the FAA has approved the ILS for Pago Pago International Airport, Hawaiian Air Vice President Ann Botticelli says they will return to their regular schedule on July 11.
She said, "We selected that date primarily to ensure that our guests traveling through the busy July 4th week can do so without disruption. It also allows us to contact those who have booked travel between July 11 and 27 (the last 16 days of the scheduled change) to provide any assistance."
To transition from daytime to evening flights, Hawaiian Air will operate two flights on July 10.
The first flight from Honolulu that day departs at 1:45 am and arrives here at 6:30 am then departs for Honolulu at 8:30 am arriving at Honolulu International at 2:55 pm.
The second flight leaves Honolulu at 4:35 pm and arrives here that night at 9:20.
The return flight leaves Tafuna at 11:20 pm and arrives in Honolulu at 5;50 am.
Then starting on Wednesday, July 11 these flights will operate on Monday, Tuesday and Thursdays according to the old schedule, i.e. That is leave Honolulu at 4:35 pm and arrive here at 9:25. Then depart Tafuna for Honolulu at 11:20 pm and arrive in Honolulu the next morning at 5;50.