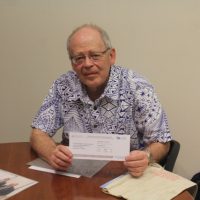 Customers of the Territorial Bank of American Samoa will be happy to know that problems in using their debit cards at points of sale and automated teller machines have been resolved.
For the past month, bank customers using their cards to shop or withdraw money have not been successful.
One man told KHJ News its embarrassing lining up with shopping at the cashier and being told that the card is not functioning.
TBAS CEO Phil Ware said from Utah this morning that they've finally managed to fix the problem with their card vendor.
He told KHJ News, "I'm happy to let customers know that they can now use their TBAS cards at ATMs and points of sale."
Ware didn't disclose the number of TBAS cards that have been issued but said they are continuing to release cards and getting them to customers expeditiously.
The CEO hand carried the first cards from the mainland last month rather than rely on the mail because it takes longer.