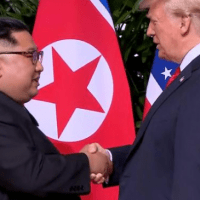 The highly anticipated summit between President Trump and Kim Jong Un of North Korea is not very far from peoples' minds as uncertainty on the outcome causes concern.
This was evident at the special farewell church service for Army Reserve personnel travelling to troubled spots in the Middle East held yesterday at the Nu'uuli CCCAS.
Nu'uuli High Chief Soliai Tuipine alluded to the summit when he spoke on behalf of his village to wish the soldiers a safe deployment.
"It has not escaped us with the uncertainties that prevail at present as our President meets with North Korea", said Soliai.
"There is a lot of uncertainty at present and the world is full of anxiety, and we as Christians pray that peace will prevail."
The Nu'uuli matai gave Lt Governor Lemanu Peleti Mauga some advice to ensure that any future farewell services for deployed soldiers be held at CCCAS Nuuuli.
18 members of the 962nd Quartermaster Company leave this week and are expected to be away for 8 months.
Nu'uuli CCCAS Rev. Malieitulua Leitualasa who led yesterday's service gave this spiritual advice to the group.
Play Audio