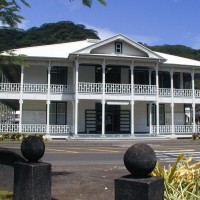 It was around nine oclock Friday night when the jury in the trial of former correctional officer Okesene Alo finally reached a verdict.
Alo was convicted of seven counts and acquitted on 4 counts.
He was found guilty of 3 counts of endangering the welfare of a minor, unnlawfal possession of a controlled substance, unlawful distribution of controlled substance and two counts of permitting a minor to escape.
He was acquitted of  unlawful possession of a controlled substance, one count of unlawful distribution of a controlled substance, stealing anf one count of permitting a minor to escape.
The former guard faces sentencing on September 28.
It was evident that jurors had difficulty reachign a unanimous decision on the many charges against Alo.
Closing arguments finished around noon and it was nine hours later tha tthe  jury came back with a verdict.
Two hours earlier Chief Justice Micahel Kruse notified attorneys that EMS was called for one of the jurors.
KHJ News learned that the juror did not take his medication but after he was seen by the medics he was able to continue jury duty.
We'll report on the closing arguments in later news bulletins.