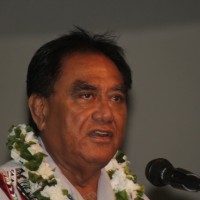 Rules of the Off island Medical Referral Program have been explained by the CEO of the LBJ Hospital after claims that the hospital has picked up first class travel and hotel costs for a senator who was seen by a physician in Las Vegas.
CEO Faumuina John Faumuina tells KHJ News that the policy for the referral program, is that LBJ Hospital pays for round trip tickets on coach seats only.
The patient may choose to up-grade his/her travel to first class but the difference of the air fare cost will be the patient's responsibility.
Caregivers if approved by the OIMRC, are also qualified for discount air fares.
Faumuina said LBJ does not pay for the physician and hospital bills off-island, this is the responsibility of the patient.
For this reason, the patient can choose his/her healthcare provider in Hawaii or the West coast.
He said LBJ can help facilitate the patient's appointments and treatment with the receiving healthcare provider off-island.
While KHJ News has received reports that the senator has submitted hotel costs for reimbursement, the LBJ CEO has said no, LBJ did not pay for hotel accommodation.
Faumuina reiterated that the patient pays for their own accomodation.
And he added that LBJ only reimburses for the non first class portion of the senator's airline ticket.
According to Faumuina, the senator chose Las Vegas because that is where his health care provider is and convenient for him.  "Besides he is the one that pays the healthcare bills not LBJ," he stated.
The CEO also confirmed that the senator was approved by the Off Island Medical Referral Program Committee.