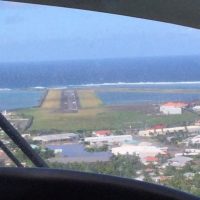 Hawaiian Air is awaiting approval of the Instrument Lighting System at Pago Pago International Airport via a flight check, before making a decision on its flight schedule between Honolulu and Pago Pago.
The airline had announced at the start of the day time flights last month that they will revert back to night time flights after the Instrument Landing System for the airport is operational.
Hawaiian Air set July 27 as the final date for the day time flights on Tuesday and Thursdays .
The Federal Aviation Administration had originally planned for the system to be up and running with a flight check in July, However this week the FAA said the ILS antennas were successfully installed and appear to be working.  However a flight check was needed to give  the green light,  The FAA flight check was moved up to this week .
According to Hawaiian Air official Alex DaSilva, the FAA did inform them  about the new date. He said, "We will be able to make a decision regarding our schedule following a successful flight check and FAA approval."