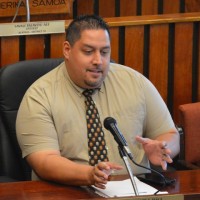 Former Public Defender Douglas Fiaui has set the record straight regarding his absence from the territory.
He said he has not been on vacation rather for the past three weeks he has been on leave approved by the governor and permitted by the Family Medical Leave Act.
Fiaui points out that prior to taking leave from the Office of the Public Defender, he reassigned his scheduled cases and also notified the court that he would be taking an extended leave.
He declares, "I have not now, nor ever, left any of my clients unrepresented."
Both KHJ News and Samoa News reported on a recent case where Chief Justice Michael Kruse issued a show cause order for Fiaui as to why he shouldn't be held in contempt for not being present for a hearing for one of his clients.
That show cause order has now been quashed.
Fiaui submitted his resignation to Governor Lolo Moliga last Thursday.
But he declined to give details of his reasons for stepping down.
He said, "Unfortunately, my personal circumstances at this time are such that I cannot continue to serve as Public Defender.  In a public setting, I prefer not to get any more specific than that."
Reflecting on his tenure as head of the Public Defender's Office, Fiaui said for the past five years "it has been my honor and pleasure to serve the people of American Samoa as Public Defender.
"It has been my privilege to defend the constitutional rights of the people of the Territory and to seek justice for the indigent accused."
He commented, "I have done my best to fight for the poor, the downtrodden, the forgotten and the damned.
"I have sought diligently to improve the quality of justice in American Samoa.
Serving as Public Defender has been the highlight of my professional life. I will always be grateful to the Governor and the Fono for twice affording me such a wonderful opportunity. I have tried to do the best I could, and I hope that the Governor, the Fono and especially the people I have worked with personally have found my service acceptable."
Fiaui wished nothing but the best for Governor Lolo, the Administration and the
people of American Samoa.
Assistant Public Defender Mike White has been Acting Public Defender since Fiaui's departure.
"I know that the attorneys and staff that remain at the Office of the Public Defender will continue to provide a committed level of service to the people they represent," said FIaui, "They have a wealth of knowledge and experience to draw from to serve their clients."
As for himself, Fiaui said he will return to the territory briefly towards the end of the month.
After that, there's nothing set for now.
He concludes, "As a proud Samoan who grew up off-island, I know and expect that from time to time, Samoa will call out to me. In my heart, I feel it. When it needs me, and I am in the position to, I will answer the call and I will return. In the meantime, I will continue to help, serve, and lift up the sons and daughters of Samoa wherever I am."