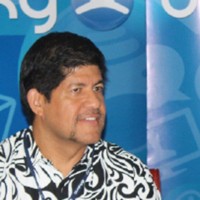 Aoee Adolfo Montenegro, former President and CEO of the BlueSky Group pays tribute to the former Director and CEO of the American Samoa Telecommunications Authority, Puleleiite Tufele Li'amatua Jr.
Montenegro said, "Junior as I knew him when we first met was a visionary… he has left us too soon, but I feel lucky to have known him."
Montenegro describes Puleleiite as charismatic, smart, well-spoken and always positive.
He reflects, "Junior always had a positive response to any setback.
"I was also lucky to meet his family in my early days in American Samoa.
"His dad, the late Lt. Gov and Paramount Chief Tufele, was an exceptional and caring man. Junior was following his dad steps and I believe, he inherited his father's care for people, his gifted oratory amongst many other wonderful attributes."
According to Montenegro, Junior orchestrated many great things that he's thankful and lucky to have been a part of.
One such event was the bestowal of the honorary HTC title Aoe'e on him.
Montenegro also recollects that Pule was genuinely concerned with people's well-being.
"He chose to serve the people of American Samoa as a Faipule and put his passion for Telecommunications on hold, but God's plan would pull him right back into Telecommunications in a way none of us imagined,"
According to Monetenegro when Pule decided to run for the House seat he agreed, reluctantly.
"As an important leader in the BlueSky team," he said, " I was not ready to let Pule go so easily then, but he was persistent, as he was."
The former BlueSky boss said, "As CEO, we found a way to keep him involved in Bluesky and through the years we shared the growth and the success. He was the undisputed leader of the team and was always there for rallying the troops.
"He became advisor, support and guidance to me and the team," said Montenegro,.
"When times were tough, I knew I could count on him and he always found a way to make light of any difficult situation. Through all these years at Bluesky, Pule's leadership and hard work was critical as we worked our way growing and expanding Bluesky. There is no doubt he played a bigger role than even he realized."
Montenegro reflected that when Puleleiite left BlueSky when appointed by the governor to the ASTCA board, he asked for his help.
"I did not hesitate" he toke KHJ News.
"Pule eventually became the CEO and worked harder than I had seen him work in ten years.
"I believe he brought much needed change to an organization that has struggled to keep up with the needs of the territory.
"In his tenure at ASTCA he brought the Hawaiki Cable project over the line, he has carried out significant reform within ASTCA, and reset it, I believe on an upward trajectory.
"I am proud and he ought to be proud of the work he's done.
"ASTCA will forever benefit from Pule's vision and determination and with the team that he leaves behind working to honor his memory.
"The work continues, and I am confident that change will continue, but with the foundation he's paved, with the values he has imparted, and the team he has built at ASTCA, they will implement his vision.
"He cared greatly about his work, and his family and the people of American Samoa; he gave everything, perhaps even his life. "