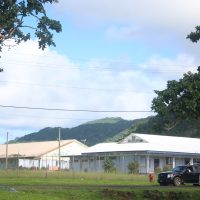 A woman who pled guilty to forging checks belonging to her place of employment, CSL Cargo Services, was Friday sentenced to 28 months imprisonment and then placed on probation for 7 years.
Associate Justice Elvis Patea ordered the defendant, Nicole Maxey, to begin serving her jail term last Friday.
She is to remain in the Territorial Correctional Facility until the court is satisfied that she is enrolled at a drug rehabilitation facility where she can be treated for drug addiction and depression.
Before the sentence was handed down, the court heard an evaluation of Ms. Maxey by psychologist Dr. Jean Anderson.
The doctor said that the defendant uses crystal methamphetamine and the money she stole was to support her and her male friends' drug addiction.
Dr. Anderson said Maxey was also clinically depressed.
The psychologist  recommended that Maxey be detained until she can be enrolled at a rehabilitation clinic off island.
Given a chance to address the court, the defendant said she wants to turn her life around and needs the help being offered.