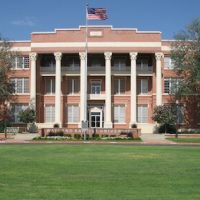 Wayland Baptist University is opening a branch at the Manumalo campus in Malaelimi this Wednesday.
The university which is owned by the Baptist Church has been working on opening in the territory since November of last year.
Lumana'i Snow, who has been working on launching the university's services here says they will offer online and classroom courses for undergraduate and graduate degrees.
The courses include applied science, business administration, early childhood eduction, human resources and many others.
Snow says they're aiming to begin their courses for the summer and have hired a handfuol of teachers, mainly part timers from the American Samoa Community College.
Wayland Baptist University whose main campus is in Plainview, Texas is present at many military bases.
In addition to classes at the Weyland classrooms at Manumalo courses will also be offered at the US Army Reserve Center.
According to Snow, there's been a lot of interest from the community and based on the response, they've garnered that people want evening classes as many have full time jobs.
Wayland would also offer students straight out of high school a chance to get a university education without leaving home.
The cost is $272 per credit for undergraduate courses; the cost for military students is $250 per credit.
A semester is 11 weeks long and according to Snow, one can get a degree in one year with fully loaded courses.
The grandopening of Wayland Baptist University at the Manumalo Schoool in Malaeimi is 9-10 am this Wednesday.