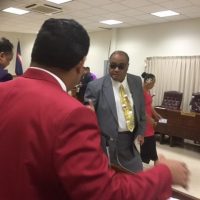 House Speaker Savali Talavou Ale says the territory has lost one of its intelligent and wise young leaders with the passing of Puleleiite Tufele Liamatua Jr.
Puleleiite, who turned 50 in February, served four consecutive terms as House Representative for Sua no. 1 but stepped down in August last year to be the Executive Director of the American Samoa Telecommunciations Authority.
Savali, the longest serving lawmaker in the Fono says when Puleleiite left his House seat, he and his colleagues missed his contributions to discussions on legislation, as he always had constructive comments delivered with eloquence and humor.
The Speaker said Pule was appointed to chair the Communications Committee  because of his expertise in the field and lawmakers learned a lot about modern communications technology from him.
He said even when Puleleiite left the House to take the helm of ASTCA, it was like he was still a member of the Fono because they would communicate with and see him regularly.
Savali observed that Puleleiite was determined to complete the Hawaiki Cable and bring the territory's communication systems up to par with other countries.
The Speaker said while Puleleiite has passed on, his contributions to the territory will be felt for years into the future.
On a personal level, Savali said Pule was a good friend and he will be missed.
Former House Representative and now Starkist Samoa executive, Archie Taotasi Soliai describes  Puleleiite as a very good friend and colleague.
"When we served in the Fono together, his leadership was impeccable and he represented his district very well," remembers Soliai.
"His knowledge of the Fa'aSamoa was one of his strengths that helped bridge the gap between the senior leaders, and our generation."
Soliai reminisces, "We were aligned on many issues and debated many a times, but we always remained friends and respectful to each other."
He went on to say, "Puleleiite was a man for the people, and he was born to serve. This was quite evident in his involvement with both private and public sectors of our community. Sadly, and to his detriment, Pule put his service to his people before his own health."
Soliai extended his deepest condolences to Puleleiite's wife Sina and children, as well as his mother Mrs Tofiga Tufele and the entire family.