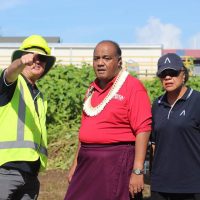 Tributes are flowing in for Puleleiite Tufele Liamatua Jr, Executive Director of the American Samoa Telecommunications Authority, who died suddenly last Friday evening.
Acting Governor Lemanu Peleti Mauga said in a statement that when he conveyed the heartbreaking news of Puleleiite's passing to Governor Lolo who left Friday morning for meetings, Lolo stated, "We have lost one of our very promising next generation of up and coming leaders who dared to defy the unknown if the expectation for gains and positive outcomes were irresistible and overwhelming."
The statement said, "such was the driving force which motives Puleleiite in the actualization of telecommunicaitons programs that will surely bolster economic development and create abundant opportunities for our territory and our people."
The Chairman of the Board of ASTCA, Faiivae Iuli Alex Godinet said, "Puleleiite stood at the helm and skillfully orchestrated and navigated the long journey negotiating the many challengers which would have derailed the Hawaiki project."
Acting Governor Lemanu commented, "Through Puleleiite, God provided the blue print and the pathway for us to follow to achieve the blessings manifested in better connectivity and producing numerous opportunities as we continue to endevour to improve the quality of the lives of our people. Puleleiite has made his mark and left his footsteps in our lives, and he established his legacy for future generations to emulate and replicate."
Lewis Wolman, former Publisher and Editor of Samoa News and one time Country Manager of BlueSky Communications when Puleleiite headed the technical division of the phone company, lamented that Pule's passing was a very sad day for his many friends and colleagues, and of course his family.
Wolman added, "It was an honor and pleasure to work with Puleleiite at Bluesky, and to be represented by him in the Fono".
He described Pule as "a great leader and possessed loads of charm, charisma, class, intelligence, knowledge, and sensitivity, along with a strong work ethic and a rock-solid deep-seated to-the-bone trust in the Samoan way to guide his every action and to make the world a better place."
Another former BlueSky colleague, Kapila Sri Chandrasekera wrote, "It was an honor to work with Pule at Bluesky and I remember and treasure the counsel he gave to an island boy a long way from home during that period.
"Rest in peace Puleleiite knowing that the task you undertook to complete the Hawaiki cable was completed.
"My respect and condolences to his family and friends. The territory has lost a true son of the soil."
Puleleiite had not been well when he returned from a business trip to Honolulu last Tuesday morning but was still turning up at the office.
He was admitted into the ICU and died early Friday evening.