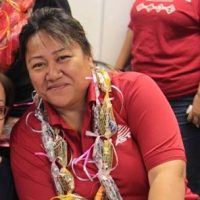 A  special meeting of the Board of Directors of the American Samoa Telecommunications Authority this past Saturday, unanimously decided on Ms Fala Sualeva , Chief Financial Officer of ASTCA to be the Acting CEO until a permanent CEO is selected.
A statement from ASTCA says the board believes that Fala has been working closely as part of the management team with the former CEO, Puleleiite Tufele Li'amatua Jr.
"With this, she is able to face the challenges of ASTCA operations in order to elevate and improve the services of ASTCA for the community."
Ms. Sualevai has over a decade of experience in senior financial roles in the utilities and telecommunications sectors in American Samoa.
She has managed all aspects of finance operations, including financial reporting, financial controls, collections and revenue assurance.
The statement said Ms. Sualevai is a strong team builder and has a track record of building a solid finance organization "through leadership, mentorship and an unwavering work ethic."
Before the board discussed the appointment of an acting CEO, they met with ASTCA managers, and Board Chairman Faiivae Alex Godinet offered words of encouragement following the untimely passing of their former CEO.
Faiivae said, "There are significant events that occur in its own unique timing and in the history of our territory's development, but there is also God's timing and plan that we cannot control or forecast. We all need to honor our former CEO by staying focused in completing all the projects that was dear to his heart; serving our people.
Faiivae acknowledged that all the managers and respective divisions are familiar with their duties and responsibilities, including their daily operations and schedule of delivering services and completing various projects.
The ASTCA Board is to convene a meeting with managers and the entire ASTCA staff in the next few days.
But their focus is to continue to support all employees "to ensure that ASTCA continues to deliver exceptional service to our people and maintain their goal o completing projects at hand".