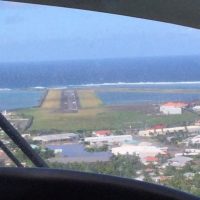 The Federal Aviation Administration is scheduled to operate a flight check of the new Instrument Landing System antennas at Pago Pago International Airport this week.
Ian Gregor FAA Western Division, Public Information Officer said that the new antennas have been succcessfully installed and they appear to be working well.
Now they need to be flight checked to make sure they are working as intended.
Originally, the FAA had scheduled a flight check in July but they have moved that forward to May 16 – 18.
Gregor said pilots will be able to use the system as soon as it passes the flight check.
With the Instrument Landing System now up and running and the flight check moved forward,  it's not known if Hawaiian Air will change its original schedule for day time flights which are due to end July 27th.
The ILS was cited by Hawaiian Air as the reason for the change from night time to day time flights.
Interestingly though, as we approach winter months, Hawaiian Air flights have been arriving before daylight.