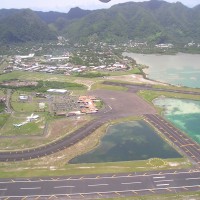 According to the Federal Aviation Administration repairs carried out last month to the Instrument Landing System at Pago Pago International Airport were not working properly and they needed more time to get the system in order.
Ian Gregor, the Public Information Officer for the FAA Western Division said the Instrument Landing System was taken down on March 23rd to make needed repairs.
Technicians replaced a corroded tower and installed new antennas and transmission lines.
The FAA expected to return the ILS to service on April 11.
However an FAA flight check of the system on April 9 showed it was not working properly.
Gregor said further investigation found that the replacement antennas were defective.
According to the FAA spokesman new antennas have been ordered, and once installed the FAA will need to flight check the system again.
He said they expect to return the ILS to service in July.
Hawaiian Airlines has cited the work needed for the airport Instrument Landing System as the reason for changing their Honolulu to Pago Pago service from night time to daytime flights.
Instead of arriving 9:30 pm on Mondays and Thursdays, Hawaiian Air will now arrive here Tuesday and Friday mornings at 6:30. The first daytime flight is tomorrow, Tuesday, April 24.
The return flight to Honolulu on both days depart Tafuna at 8:30 am and arrives in Honolulu at 2:55 pm.
Gregor said that Hawaiian Airlines was landing at night for a while after the Airport Instrument Landing System was taken down on March 23.
Airline Vice President Ann Botticelli said in an email over the weekend that because safety is their priority, Hawaiian Air is altering their flight schedule to allow their aircraft to take off and land during daylight hours. The change will be in effect until July 27.
The change will also affect Hawaiian's additional summer flight which was originally scheduled for Tuesdays, but will now be moved to Wednesdays.