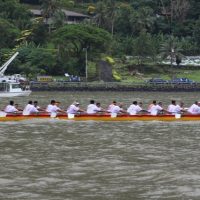 The Flag Day Committee will decide the course for the fautasi race this morning after checking out sea and weather conditions.
The race is scheduled for 10 am and according to a member of the Committee, if the weather cooperates the race will start from outside the harbor.
However if seas are rough the fautasi will line up from Pago Pago and race towards the green buoy off Onesosopo Park from where they will turn around and head back towards the starting line.
This is the course that is used for the Fautasi Challenge for Coast Weeks.
The Flag Day fautasi race was aborted on Saturday because of foul weather.
At a meeting of captains after the aborted race, the Flag Day Committee announced that the race will be moved to this morning.
Fautasi captains were told at the meeting that if any boat is not at the starting line by 10 am , or if any boat is ahead of the rest of the pack, they will be disqualified.