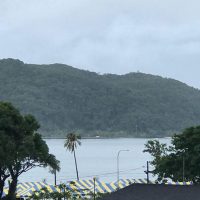 1030am: Barring any unforeseen circumstances, the 2018 Flag Day Fautasi Race will go on at 2pm as scheduled.
However the Committee has decided to shorten the course of the race to just over 2 miles, which will place the starting line just beyond the entrance to Pago Pago Harbor.
The fautasi captains have been told to be around the Rainmaker Hotel point at 1230 pm for final instructions.
Just a reminder that while 2pm is the announced starting time, the norm from past races is to start the race earlier, anywhere from 15 to 30 minutes earlier.
Check other talanei.com story for placing of the nine fautasi competing today.
KVZK TV Channel 2 is streaming the race live at
https://livestream.com/accounts/8956070/events/4561731