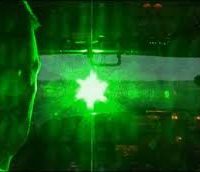 The Department of Homeland Security has issued a notice cautioning residents that anyone found to be beaming a laser at approaching aircraft will be subject to prosecution under federal law.
This follows reports of another laser beam incident blinding the Hawaiian Airline (HA) pilot's cockpit on the Honolulu to Pago Pago flight last night.
The pilots of flight HA 465 encountered not one but two laser beams pointed at their line of sight while coming in to land.
Homeland Security said in a statement: "This incident is a very serious crime and violation of federal law. We would like to inform the public that, it is Illegal to aim laser pointer beams at an aircraft or their flight path. Penalty for violating the federal law is up to 5 years in prison and up to a $250,000 fine."
The Department of Homeland Security is asking the public for their assistance in finding the person or persons responsible.
Please report any information you may have relating to this incident to the EOC at 699-3800/6990411 or the Police at 633-1111.