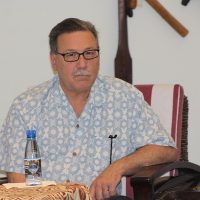 Assistant Secretary of the Interior for Insular Affairs Doug Domenech arrived in the territory last night on his first official visit, since being appointed last year.
He was welcomed at Pago Pago International Airport last night by Governor Lolo Moliga and First Lady Cynthia Malala Moliga and Lt. Governor Lemanu Peleti Mauga and the Field Representative for the Department of Interior, Lydia Faleafine Nomura.
Assistant Secretary Domenech is accompanied by Director of the Office of insular Affairs Nikolao Pula.
Also on last night's Hawaiian Air flight was Congresswoman Aumua Amata Radewagen.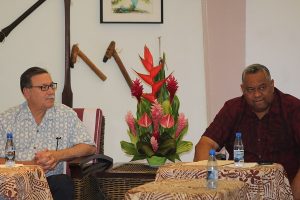 This morning the Assistant Secretary flew on Samoa Airlines to Tau Airport accompanied by Lt. Governor Lemanu Peleti Mauga, Congresswoman Aumua, Pula and a handful of directors.
They include ASPA Director Utu Abe Malae, Commissioner Le'i Sonny Thompson, Director of Health Motusa Tuileama Nua, Port Director Taimalelagi Dr. Claire Poumele, Director of Education Dr. Ruth Matagi Tofiga and Director of Public Works Faleosina Voigt.
On Ta'u island visits are scheduled to Fitiuta Elementary School, the ASPA Solar Farm, Manu'a High School, the Ta'u Wharf, Ta'u Health Dispensary, ASPA Power Plant, Faleasao Elementary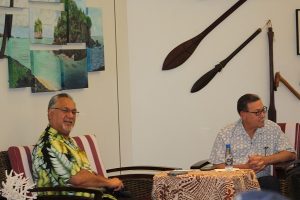 School and Faleasao wharf.
The group will have lunch at Faleasao then taken by boat to Ofu Island on the Segaula vessel.
On Ofu, Assistant Secretary Domenech will inspect Ofu wharf, the ASPA compound and solar farm, Ofu Health dispensary, ARFF hangar, the Ofu Olosega Elementary School and Ofu Airport.
The malaga is scheduled to return to Tutuila at 3:30 this afternoon.
This evening, the Assistant Secretary can gets a taste of siva and pese at the final night of the Arts Council Performing Arts Festival.
An ava ceremony to officially welcome the visitor from Washington D.C is scheduled for tomorrow morning at Suiga o le Atuvasa and around 2pm weather permitting he will be a spectator of the Flag Day fautasi race.