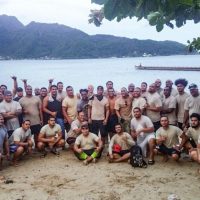 There will be nine fautasi competing in the 2018 Flag Day race set for 2 pm tomorrow, Saturday, April 14.
The defending champs, Manulele Tausala, from Nuuuli will not be in the line up.
And neither will the Fetu o le Afiafi from Fagaalu.
But some previous winners like the Fuao, Aeto and Fealofani will be vying to reclaim what Nuuuli has clinched for the last three races.
There's also a newcomer, Toa o Samoa, Army Reservists, some of whom are from Nuuuli and Fagaalu and other Fautasi villages.
The placing of longboats for tomorrow's race, with the first fautasi being closest to the airport are:
1. Aeto – Pago Pago
2. Fuao – Vatia
3. Fealofani – Fagasa
4. Matasaua – Manu'a
5. Iseula – Fagatogo
6. Taema- Leone
7. Paepaeulupoo – Aua
8. Fono – Legislature of American Samoa
9. Toa o Samoa – Army Reserve
Today the Fautaci Race Committee is consulting with the Weather Service Office in Tafuna about tomorrow's weather forecast.
Currently there's a small craft advisory and a high surf advisory in place.
Tomorrow showers are expected along with swells of 5-9 feet.
If for any reason the race can't be held tomorrow the Committee is looking at Monday for the battle of longboats.
There's been no word on what the race purse will be.