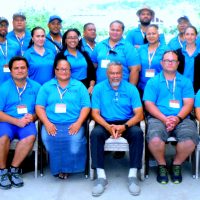 The  American Samoa Community College  hosted 17 staff members of the American Samoa Environmental Protection Agency (EPA) for a two day Leadership Training last week.
The training, headed by ASCC President Dr. Rosevonne Makaivi Pato  took the participants through the basics of professional leadership standards and practices.
It  explored many different aspects of effective leadership, including ethics, communication, accountability, decision-making and sustaining best practices.
The presenters also placed an emphasis on balance and well-being, since a leader's overall wellness will have an influence on not only their own job performance, but also on those whom they lead.
Dr. Makaiwi-Pato explained that the ASCC Leadership Training was developed by the college for the professional development of its own faculty and staff, but any institution, organization or business which relies on strong leadership can utilize the principles and methods the training focuses on.
Last week's sessions for the EPA marked the first occasion when an entity from outside the College has taken the training.
"We feel privileged for the opportunity to share what we know of professional leadership standards and practices" wrote Dr. Makaiwi-Pato in her introductory letter to the participants, "and we hope this knowledge will contribute to the success of each individual participant as well as the Agency as a whole."
The ASCC President also expressed her appreciation for the EPA's interest in having its current and potential leaders informed by the training.
"With the rapid development of American Samoa, the role of the EPA has never been as important in ensuring that the current and future residents of our Territory enjoy a clean and environmentally healthy home," she said.
When the two days of sessions concluded, each participant received a certificate of completion, and Dr. Makaiwi-Pato explained that while its main purpose is their professional development, the training is also worth a single ASCC credit towards a degree or certificate should those present ever take additional trainings or courses at the College.
Any public or private entities who would like more information on the ASCC Leadership Training are welcome to inquire by contacting the College by calling 699-9155 and asking for the Office of the President.