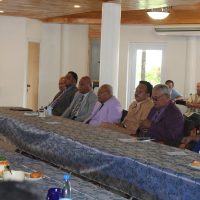 The Fono resumes today after a four week recess, with just over 22 days of their regular session remaining.
Two administration bills which lawmakers will review would amend the limited liability corporation law and regulate and set fees for money transfer businesses.
The limited liability legislation is intended to attract investment in the territory.
The proposed legislation limits the liability incurred by board directors and shield them from debts and lawsuit stemming from business activities.
The "Money Services Business Regulatory Act" would require money transfer businesses to obtain licenses and pay fees for money transactions that they handle.
Governor Lolo Moliga said, "Due to the large amount of monies handled by these types of businesses, regulatory oversight is needed to ensure monies are handed properly."
He also informed Fono leaders, "Another reason for regulation is to enable money service businesses to open accounts with a local financial institution.
Number One Currency, agents for Western Union, believed to be the biggest money transfer business in the territory sees the bill as a way for their company to finally open a bank account in the territory.
ANZ does not accept bank accounts for money transfer businesses because of concerns of money laundering.
At an inter-Samoa meeting two years ago, Manager for Number One Currency said they are having to cart large amounts of American currency to Samoa to bank because of this policy.