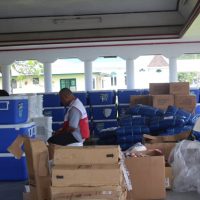 The American Red Cross continues to offer casework services to households that were suffered major damage or destroyed by Tropical Storm Gita.
The Red Cross is operating a Service Center on the Eastern side of American Samoa through Saturday, March 10, by appointment only.
Beginning on Monday, March 12, the Red Cross will move to a Service Center on the Western side and will continue to reach out to the households with major damage or destroyed homes to set up appointments throughout the week.
In addition to the disaster casework services, the American Red Cross started installing smoke alarms today as a part of the Red Cross' Sound the Alarm smoke alarm installation program.
Working with the local fire authorities, the Red Cross is identifying the areas with the highest risk for home fires, installing smoke alarms and creating emergency escape plans with family members.
The Red Cross says, "you may only have two minutes or less to get out of a burning home and practicing your escape plans makes that easier to do. "
Meanwhile, the pre registration for all those who were affected by Tropical Storm Gita moves to Nuuuli and Iliili today.
Nuuuli Eastern Side will meet at Fanene's guest house;
Nuuuli Central will meet at Soliai's guest house;
Nuuuli Western will meet at LDS Malaeimi,
Upper Iliili will meet at the Catholic Hall and Lower Iliili will meet at CCCAS Hall Iliili.
The pre registration is from 730 am to 6 pm and you are asked to bring a valid photo identification card such as a Voters ID, Hospital Card, Driver's License, Immigration Card, CI and Vital Statistics State ID.
If you have any questions, please call 699-0411.