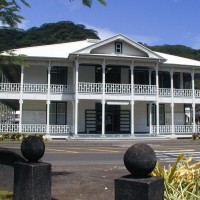 The jury in the trial of Elijah Leasau has acquitted him of unlawful possession of a controlled substance.
The six jurors took just five minutes to come up with a verdict at the end of a three day trial in the High Court.
Before the case went to the jury, Assistant Attorney General Christy Dunn reminded them of the testimonies of police officers indicating that the defendant threw something — a highlighter outside of his vehicle and inside the highlighter was a pipe in which marijuana was found.
Defense attorney Marcellus T. Uiagalelei summed up that the government failed to prove that his client unlawfully possessed marijuana.
The attorney stressed that the element of the unlawful possession charge is when a person has on his body or under his control, an illegal drug.
Defendant Leasau told KHJ News the evidence or statement that a key witness, a police officer gave was false and he just thanks God that he can go home to his kids.
Presiding in the case were Chief Justice Michael Kruse withAssociate Judges Faamausili Pomele and Tunupopo Faleafaga.