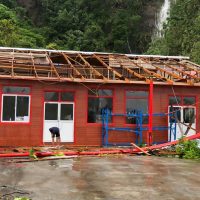 More officials from the Federal Emergency Management Agency arrived last night.
The first group to be on the ground is the Incident Management Team whose leader told KHJ News early this morning that a total of 20 FEMA personnel are expected on island.
Benigno Bern Ruiz who has been appointed the Federal Coordinating Officer for Federal recovery operations in American Samoa will also be traveling here but its not known when.
The IMT leader who arrived last night said that they will be reporting to FEMA Region 9 once they carry out an assessment of affected areas.
In other news, all public schools will be closed for a week.  Teachers are cleaning up their campuses and classrooms.
ASCC is not having class today but faculty have to report to the college.
Students are urged to listen out for notices on when schools will resume.
Private schools which remain closed are:
Pacific Horizons
South Pacific Academy
SPICC
Iakina Seventh Day Adventist
Kanana Fou
all Catholic schools
Manumalo Bapitst School reopened yesterday.
Papalii Laulii Alofa says its important to keep the children occupied and learning.
He said nearly all of the students were in class  yesterday and it was a very happy environment.