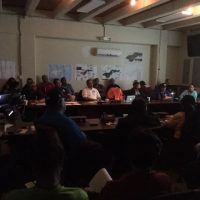 Its been a sleepless weekend for utility workers from the American Samoa Power Authority, Public Works, American Samoa Telecommunications Authority, as well as first responders including police and EMS personnel trying to restore services cut off by Gita.
A handful of private contractors have also been helping with road clearing during and after the tropical storm.
As of yesterday evening 65% of ASPA customers had power.
ASPA has to check homes and businesses first for any damage to the power lines and will pass over those that have damage.
So your neighbors may have power but if you have damage to the service lines to your house, or business you will not be connected until later.
And 85% of water customers now have water, though some have low pressure.
KHJ News understands that ASPA crews had to get generators to supply power for the National Weather Service, EOC, and other government agencies which had been given FEMA funded generators after past disasters but none were functioning.
For ASTCA, CEO Puleleiite Tufele Li'a Jr reported at Saturday's meeting at the EOC that one of their towers collapsed during Gita.
Play AudioPule-phones
O3 B satellite service was also down and internet has been reliant on the ASH Cable.