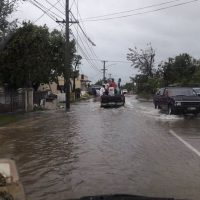 Disaster assessment teams in Tonga say water, shelter and food are the immediate needs for people still reeling from the destruction brought by Tropical Cyclone Gita overnight.
Disaster assessment teams in Tonga say water, shelter and food are the immediate needs for people still reeling from the destruction brought by Tropical Cyclone Gita overnight.
On Tongatapu, the category four cyclone brought winds of over 233km/h, which ripped roofs off houses, brought down trees, destroyed a Catholic church, and took the Tongan Met Office and the national radio station off line.
Tonga police spokesperson Sia Adams said a 72-year-old man from Fuaamotu was rushed to the hospital last night, but died of a heart attack before arrival. She said the Director of Health said the cyclone could have contributed to his death.
Ms Adams also said police could confirm three major injuries and 30 minor injuries on Tongatapu as a result of Gita, and that police are still awaiting a report from 'Eua.
Tonga's Red Cross said the level of damage to crops, homes, vegetation and infrastructure was extremely high following the cyclone.
Spokesperson Polikalepo Kefu said three teams from the Red Cross had been assessing different areas of Tonga and information was still being collated.
There had been a few people with injuries taken to hospital from 'Eua Island but he has not heard confirmation of any deaths, Ms Kefu said.
Many people were shocked and traumatised by the scale of last night's weather, she said.
"The scene in Nukualofa is very devastated… You can see fallen trees and even fallen houses, and they are still in a mess."
Ms Kefu said it was vital for people to begin repairs and try to clear up excess water to avoid an escalation of the dengue fever outbreak with the potential for mosquitos to breed in pooling rain water.
About 3000 people are at evacuation centres but Red Cross was expecting double that number overnight.
Meanwhile, former government minister in Tonga said almost all the crops on the island of 'Eua had been destroyed due the cyclone.
The category four storm went almost directly over 'Eua which lies just south east of the main island of Tongatapu.
Former 'Eua MP Sunia Fili said the storm had dealt a huge blow to the local agricultural sector.
"The kava, the cassava and yam too, all the crops near town. Also the breadfruit around in town and the town hall was down and also many small houses. Only the new houses was good but many families are in a very bad situation."
Sunia Fili said he had never experienced a storm of such intensity.
"I look at my neighbours, most of their houses are down, taking the walls or the upper parts of the house, and I am sure those people they are very sad at this time. They are looking forward for any aid from donors to help them but I can see they are still trying to get something to get in [to shelter]."
According to Sunia Fili, power is out across the entire island.
Local communities 'devastated'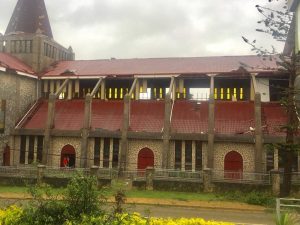 Local youth worker Vanessa Helot said people in the communities she had visited were absolutely devastated by the damage and destruction to their homes.
"We are seeing shops that the rooftops have been uprooted; all their goods are exposed. We are seeing floods and also a lot of branches and a lot of electric lines. We have talked to some women this morning – their priorities are water, blankets and food."
She said it would have a huge impact on people's lives in Tonga.
"It is a big issue because this is their livelihood and it is like we have to start all over again. There is no electricity, there is no water. Not everyone has water tanks [or] has fresh water."
Nuku'alofa resident Joshua Saveeti described the scene as people in his neighbourhood emerged from their shelters, after what he said was a terrifying night.
" A neighbour just a few houses down, the roof went off, the walls are gone, and all that is left standing there is just all of their furniture and their things."
The family had evacuated earlier in the day, he said.
"They just got home this morning. We were all walking in and then they saw their house and then, yeah, they just lost it."
All airports in Tonga closed
All airports in Tonga are currently closed due to damage and disruption following Tropical Cyclone Gita.