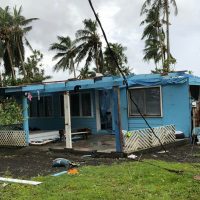 About 400 people visited the Red Cross headquarters yesterday when doors were open to report major damage and totally destroyed homes due to Gita.
Val Tuilefano the Red Cross Director American Samoa said people arrived in buses and taxis when word got around that the Red Cross was mobilizing.
The day before several families were at the Red Cross Center requesting tarps to cover their roofs  which were damaged.
Tuilefano said  this led to more families coming in for tarps and as word got out more people arrived to seek tarps.
The Red Cross director said  this was not a planned event.
The last people to leave Red Cross last evening at 8:00pm received only flashlights as the tarp s were all gone.
Tuilefano said no cots have been distributed.
Per Red Cross protocol, cots require a  Red Cross team to go out and conduct a physical assessment to determine the need and number of those needing cots due to their beds being destroyed in a disaster.
Names of all those who required assistance were recorded as they provided IDs for tracking purposes.
Tuilefano says even though some families did not get the supplies they requested such as cots or portable tents they were appreciative and understood that since their names were being recorded- Red Cross will reach out during their island wide damage assessment.
"These families call Red Cross their families and Red Cross refers to them family. Even though we didn't have any more tarps to distribute some were just comforted and needed a hug from Red Crosser Mama Peka Baker."
A Red Cross official is confirmed to arrive from Honolulu today to help with assessments and three others are expected from San Diego later.