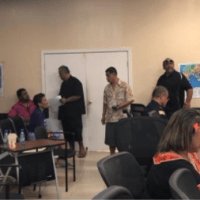 This is a special bulletin from the American Samoa Department of Homeland Security – TEMCO issued at 6:00 p.m., Monday, February 12, 2018.
The Emergency Operations Center (EOC) Damage Assessment teams will conduct assessments in the villages of Tutuila, Aunuu and Manu'a assisted by village mayors.  These assessments will include damages sustained by individual homes and all public infrastructures.
The American Samoa Power Authority wishes to inform the public they are continuing with electric power and water restoration.  Power is at 75% and Water is at 85% .  Damaged poles will need to assess one by one for safety reasons.
The public is strongly urged to stay away from all downed power lines.
The Department of Health clinics in Tutuila and Manu'a are all open.  Health inspectors are out conducting inspection of all stores for food safety.
From LBJ – The Dialysis clinic will be closed tomorrow, Tuesday, February 13th for routine resanitation purposes and return to normal operations the next day, Wednesday, Feburary 14th.
The ASEPA is conducting testing of all water vending machines and water wells.  In addition, they are also issuing an island-wide beach advisory while conducting testing of all recreational beaches.  The Boil Water notice remains in effect.
The American Samoa Department of Homeland Security – TEMCO will advise of any further changes of any weather report incidents and will issue further bulletins as necessary. Report any flooding or landslides to the EOC at 699-3800, or the Police at 633-1111.