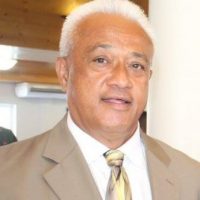 Governor Lolo Moliga has terminated the services of the  Director of the Territorial Energy Office Aliitama  Sotoa .
He was given his walking papers last week.
Responding to KHJ News questions this afternoon, Governor Lolo Moliga confirmed that  Sotoa has been fired.
Lolo said Sotoa had been given several warnings about traveling  to off island meetings some of which he did not receive approval to attend.
According to the Governor Sotoa was told to give opportunities to his deputy directors to attend some of the meetings in order to build capacity but he continued to take the trips and would sometimes pay for the travel himself.
Lolo told KHJ News he had discussed previously with Sotoa that his family and also the government and people of American Samoa that the Territorial Energy Office serves were not getting his full attention.
Lolo said he didn't feel that the warnings given to Sotoa in the past were heeded so he made the decision for the TEO Director.
Sotoa is currently off island and could not be reached for comment.
He joined ASG in 2014 after retiring  from San Diego Gas and Electric Company where he held a management position.
Sotoa's family continued to live in the mainland after he relocated to the territory.
KHJ News also received reports that the governor had warned other directors.
Asked about this, Lolo said this is true nearly all the directors have been told about incidents that did not have the best interests of the public in mind.
He said he made it clear to the directors that the last 3 years of the administration are the toughest and he expected them to give their full attention to their jobs
Lolo said from his observations the warnings appear to have worked as the directors whom he talked to are shaping up.