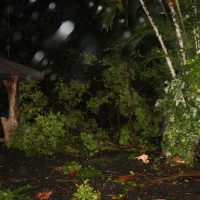 Friday Morning 5AM Update: Cyclone Gita is near Upolu right now, moving toward Tutuila at 14 mph. Expect it to arrive in the next few hours.
Gita will pass underneath Tutuila but the strong side of the storm is going to face Tutuila and Manu'a.
Winds will be up to 50 mph and higher gusts.
The Emergency Operations Center and police said overnight there were no reports about any incidents caused by the severe weather.
People were flooding the EOC all night with enquiries about the status of the tropical call cyclone.
Roads are strewn with tree branches in the Iliili area.
A backhoe was digging from inside the Argosy grounds ealy this morning trying to clear blocked drainage as the water pn teh road between Argosy and the SSAB Store was dangerously high.