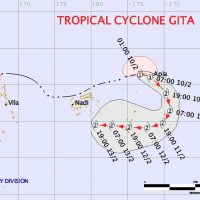 The Department of Education has closed schools for Friday, February 9.  The cancellation covers ECE, elementary and high schools.
Director of Education Dr. Ruth Matagi-Tofiga asks teachers and administrators to report to your schools and secure classrooms.
All other DOE personnel please report to your respective divisions.
The American Samoa Community College has also cancelled classes for today.
Private schools which have announced that they are closed today are:
SPICC
Pacific Horizons
South Pacific Academy
Samoa Baptist Academy
Kanana Fou
All Catholic Schools
All ASHAA sports events for Friday are cancelled.
The Territorial Administration on Aging Office has cancelled hot meals for senior citizens today due to the severe weather.
Forsgrens, Koko Bean and Sports Domain are closed today. Owners are advising employees to stay at home and take care of their homes and families.
ANZ Bank's two branches in Fagatogo and  Tafuna are closed.
The VA Clinic is also closed.
Neil's Ace Home Center is closed.
The Matson Shipping Line customer appreciation party scheduled for this evening has been cancelled.
If you have any cancellations please email to monica@khjradio.com or psa@southseasbroadcasting.com or call 633-7793, 7344.