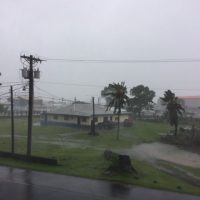 Emergency  Shelters which are now open: Tafuna Elementary, Samoana High School, Leone High School, Fagaitua High School, Fagalii Elementary.
Power has been restored to Ta'u and Ofu.
Water is off in several parts of the Western District. Please use bottled water for drinking and make use of rain water for household purposes.
Because ASTCA landlines are down, you can call the American Samoa Power Authority at 770-1600 or 770-1605.
The Tafuna Health Center is now open.  The ones at Leone and Amouli are not opened today.
The road in front of Faasao Marist has now been cleared after huge trees in from of the school were uprooted.
The Department of Public Works advises that Dial-a-Ride is available to assist with transportation, Call 699-3800.
The main intersection at Vaitogi is blocked.  The Aua to Afono Road is also blocked.
The Aunuu channel is closed.  Owners of vessels inside the harbor are asked to secure their vessels.
StarKist Samoa has cancelled its night shift today.  And there will be no production tomorrow.
Workers are asked to listen in to the radio for information on when production will resume.