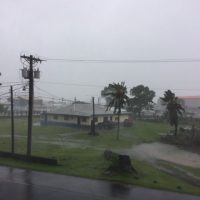 Tropical Cyclone Gita has knocked out power and phone lines in the most populated part of American Samoa, Tuala-Uta.
The whole island is battered by hurricane force winds which have downed power lines and phone lines.
Water is also off in many areas of the western side of the island. ASPA is advising residents to use bottled water for drinking and rain water for other purposes.
Several sections of the main highway are blocked due to landslides.
The road is blocked in front of Faasao Marist High School and motorists are advised to take the Malaeloa road.
All schools and several businesses including banks are closed . There are no inter island flights and the Friday night Hawaiian Air flight has been delayed 24 hours.
Government offices are opened but Governor Lolo Moliga has instructed employees to take care of their homes and families first.
Public schools are being made available as shelters for families whose homes are flooded or not safe from the winds.
The National Weather  Service has lost power and is now receiving data from the NOAA Weather Office in Honolulu.