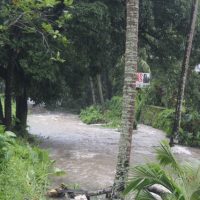 At 3 this afternoon the National Weather Service issued a Tropical Storm Watch for all of American Samoa as a developing tropical cyclone moved about 330  miles west of Tutuila, and heading east.
A tropical storm watch means that tropical storm conditions are possible within the next 48 hours,
The developing cyclone is expected to pass very close to Tutuila and Manu'a on Friday with wind strengths of up to 40 miles per hour.
It is expected to gain strength as is passed close to Samoa on Friday and then move southeast or away from the islands.
It's bringing heavy rain and thunderstorm,.
A flash flood watch is now in place until Sunday.
A high surf advisory and a small craft advisory are in place for Tutuila, Aunuu and Manu'a.
A gale warning is issued for Swains which will remain through tomorrow and  a wind advisory is also in effect for Swains.
The Department of Homeland Security/TEMCO urges those living in low lying areas and near streams to take necessary precautions.
Also be aware of the risk of landslides as the grounds have become saturated with water.
At this stage the Emergency Operations Center is still partially active.
For today homes in Pago Pago and Gaitaivai were evacuated due to flooding and a landslide.
The EOC also received a report about flooding in Taputimu.
Late this afternoon, Director of Education Dr. Ruth Matagi Tofiga announced that all public schools will be closed tomorrow.
All staff are asked to report to their respective schools.