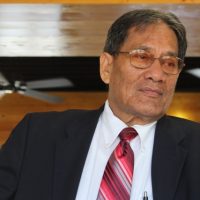 The chairman of the Senate Budget and Appropriations Committee Senator Magalei Logovii is concerned about reports that LBJ's subsidy form the Department of Interior is being used as match for the Medicare program.
Magalei learned from colleagues who went on a site visit to the LBJ Hospital earlier this week that LBJ management expressed concern about this.
Magalei, a former ASG Treasurer said the subsidy helps operations of the LBJ Hospital and is also assigned for special purposes.
He said if the subsidy is being used for the LBJ match for Medicare it will drive the territory's only hospital into a deeper financial hole than its already in.
The Senate Health Committee visit to the LBJ Hospital  was led by Chairman Senator Satale Galu Satele.