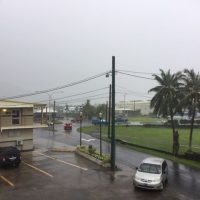 A tropical depression close to Fiji is expected to be over American Samoa by tomorrow morning.
Though the National Weather Service had said in our 7 am bulletin that a tropical storm watch would be issued within the hour, his didn't happen.
Meteorologist Carol Maafala Baqui explains the latest about the weather disturbance over Fiji and how it will impact the territory.
Play Audio
For today showers from the monsoon trough will continue .
Director of Education Dr. Ruth Matagi Tofiga has cancelled schools for today, but is asking teachers and administrators to report to work as usual.  The cancellations includes ECE, elementary and high schools .
For private schools Manumalo, Iakina Seventh day Adventist,  Pacific Horizon, Samoa Baptist Academy, South Pacific Academy, and all Catholics Schools are closed.
The Fagaima road is closed and motorists are asked to go by the Petesa Road.
The Emergency Operations Center  did not receive any calls about weather related incidents last night.
Police patrols called in reports about deep lakes in the usual flood prone parts of the highway.