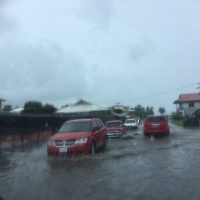 TC Gita is expected to be over Savaii at around 0100 hours and over Tutuila at around 0600 hours.
Storm force winds of up to 50 mph, heavy rainfall, and high surf are expected.
The Department of Homeland Security/TEMCO advises residents to heed weather information and advice from the National Weather Service and ASDHS-TEMCO.
Loose debris in yards can be dangerous flying objects to people and property.
Parents should keep their children away from pools of water and streams.
Avoid being on the road unless its absolutely necessary.
This will allow first responders to clear roads and answer any emergency situations.
Continue to monitor your radio, stay alert, prepare, and stay safe.
Parents please remember that the Department of Education has closed schools for tomorrow, Friday, February 9.
SPICC in Fatu ma Futi is also closed tomorrow,
All ASHAA sports events for Friday are cancelled.
The Territorial Administration on Aging Office has cancelled hot meals for senior citizens tomorrow.