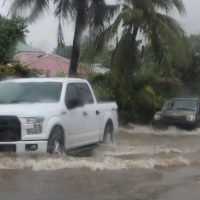 Flooding, stalled vehicles, landslides and non stop rain.
That's the way it was all day and night and we can expect the same today.
The Department of Education has informed us that public schools have been cancelled.
Several private schools have also cancelled. (see list below)
From midnight to 5 this morning there's been 6 inches of rain.
The amount of rainfall recorded all of Tuesday was 5.44 inches.
Meteorologist Salu Malala Salu says this is caused by a really active monsoonal trough that is lying directly over the Samoa islands.
Landslides have been reported from Avau, Amanave and Poloa.
A resident from the western end of the island reported this morning that there's one lane traffic only at two parts of the road  between Poloa and Amanave where landslides occurred over night.
She said there's a steep incline into the sea at one of the landslide locations and drivers  should be extra cautious.
Meteorologist Salu says the monsoonal rough should be moving to the north away from us by this afternoon.
The flash flood warning is continued to 10 am.
The National Weather Service is also monitoring a tropical disturbance over Fiji.
If it maintains its current track the system is expected to reach the Samoa group by Friday.
However Salu says the system is still far off to determine if it will pose a threat to the Samoan islands.
Meanwhile our phones have been ringing off the hook, with parents calling to ask if there are any cancellation notices from public and private schools .
The Department of Education has cancelled all public schools, ECE, elementary and high schools.
Private schools which have cancelled classes are SPICC, Manumalo, South Pacific Academy, Iakina SDA Academy, Pacific Horizons and Kanana fou.
Manumalo asks that teachers report to school today,  but students stay home.