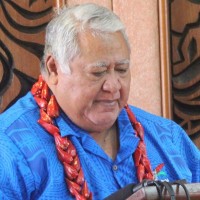 The Samoan government is finally putting into practice a twenty five year  old act which requires all newspapers and printers to register with the Justice Ministry.
In a Samoa Observer report this morning, CEO of the Justice Ministry, Papali'i John Taimalelagi, said a "lapse" had been uncovered during a routine review of the Acts mandated under the Ministry.
He said in his role as CEO he reviews Acts mandated under his ministry and  came across the required registration for all newspapers and yet has never been implemented.
The Newspapers and Printers Act 1993 drew a lot of condemnation from local and international media organizations and practitioners when it was  introduced in Parliament.
It was widely seen as a tool being used by then Prime Minister Tofilau Eti  Alesana and the Human Rights Protection Party as a way to curb criticism  from the media especially the print media.
The biggest threat seen at the time to freedom of information was the  requirement in the act for publishers to reveal names of sources under orders of the court.
This still remains a threat.
And it seems that this will not be limited to just locally operated newspapers.
Papalii has written to all newspapers "circulating in Samoa" advising of  the new requirement.
New Zealand and Australian based newspapers look likely to be required to register under the new decree.
Papalii has given March 1st 2018 as the deadline for registration.