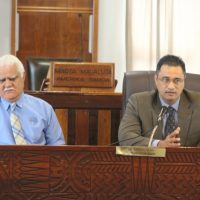 The dividend from the American Samoa Hawaii Cable of more than $1.5 millions is being kept in an Special Reserve Account according to Treasurer Ueligitone Tonumaipe'a.
And American Samoa's share of the more than $6 million fine imposed on StarKist Samoa by the USEPA has not been received.
The treasurer and Attorney General Talauega Eleasalo Ale were questioned about the payments by the Senate Budget and Appropriations Committee yesterday
The AG assured that the funds will be submitted to the Fono for appropriation.
He said this may come in the form of a supplemental budget bill as the funds were received after the annual budget was presented.
Committee Chairman Senator Magalei Logovii emphasized that senators needed to hear a full explanation about the ASH dividend and the StarKist fine  so they can explain when constituents ask where this money is.
He said they also don't want to be led by media reports but to hear from ASG officials in charge of the money.
For the ASH Cable dividend, ASG which owns 33% of the company, received $550,000.  eLandia 's share was $1.1 million and the company used it pay its 2015 and 2016 taxes to ASG,.
Tonumaipea says the governor instructed that  the total amount of over $1.5 million be kept in a special reserve account.
This account is with the Territorial Bank of American Samoa and the only signors of this account are the Governor and the Treasurer.
According to Tonumaipe'a the only time this account is used is when there's a cash crisis.
Responding to questions from Senator Fonoti Tafaifa concerning ASG accounts off island,  the treasurer mentioned that there were three accounts with Zions Bank.
However he only identified two and none of the members asked him what the third account was.
The two accounts Tonumaipe'a named were the ASG Payroll account and the SSBCI account.
SSBCI is the Small State Business Credit Initiative for which American Samoa was awarded $3 million.
Committee Chairman Magalei advised the Treasurer that any new money received by the government should be reported to the Fono.
He recommended that the ASG quarterly performance report should reflect any windfall.
Concerning the portion of the StarKist fine of $2.4 million, the AG said that the money has not been received but it will be used for specific purposes .