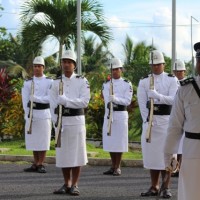 Samoa police have charged three men with murder following the death of a 43 year old man at a village east of the Faleolo International Airport last  Saturday evening.
TV1Samoa quoted police spokesperson Auapa'au Logoitino  Filipo saying the deceased was drinking alcohol with a group the three accused  men at Sapulu village when a fight broke out.
Its believed that the death resulted from the fight.
A police investigation led to the arrest of the three men who are now in custody awaiting court appearances on February 26.
Their names have not been released.