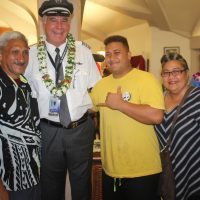 An unplanned reunion took place last night at Pago Pago International Airport with the arrival fo the inaugural Hawaiian Air bus flight on the Honolulu Pago Pago route.
It was between chief pilot captain Kevin Hardin and a 34 year old American Samoan who was born on the first Hawaiian Air flight from Pago Pago to Honolulu in 1984,
Captain Hardin also captained that flight 34 years ago.
Last night  while VIP guests were enjoying a spread to welcome the airbus, Hardin had slipped out to the Hawaiian Air office to say hello to the staff when a man walked up to him and asked If he was Captain Hardin.
The man, Nick Faasala, was the father of the baby who was born on that flight.
And he had with him his son Alton and his wife, Mauga Faasala.
Mrs Faasala said she was 7 months pregnant and was traveling to see her husband who was in the military,  But in flight she went into labor and Alton was born.
Captain Hardin said Alton's birth certificate was written on the back of the flight plan and he signed it to verify the baby was born on the HA flight.
Mr Faasala said he still has that piece of paper with Captain Hardin's signature.