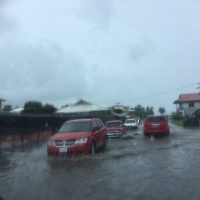 The National Weather Service has extended the flash flood warning to this evening after a day of rain, brought on by competing weather systems.
There's an active surface trough over the islands as well as a monsoonal trough which is whipping up winds and showers.
Between midnight last night and 3 this afternoon the National Weather Service rain gauges recorded 2.17 inches of rain.
The Department of Homeland Security is cautioning drivers and pedestrians in areas prone to flooding and or landslide to be extremely cautious.
The public is also asked to report any weather related incidents to the Emergency Operations Center 699-3800 or police at 633-1111.